Electrohydraulic Thrusters
Electrohydraulic Thrusters according to DIN 15430 and TGL Norm with all extras, tensions and frequencies
Repair service of our own products and products of other brands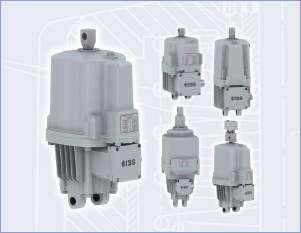 KoRo IBS Electrohydraulic Thrusters
Electrohydraulic Thrusters
acc. to DIN 15430
(PDF, 2.26 MB)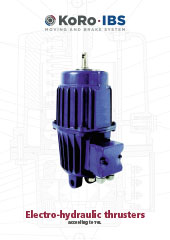 Electrohydraulic Thrusters
acc. to TGL Norm
(PDF, 2.97 MB)
The thrusters meet all DIN requirements
Installation:
Vertical, Horizontal or In-between possible
Motor:
Double Pole Squirrel Cage. Enclosure to IP65.
Insulation to VDE 0530 Class F.
Voltage and Frequency:
Standard voltage 230V/400V at 50 Hz, or 290/500V at 50 Hz.
All other ac voltages and frequencies are available.
Service Conditions:
All our thrusters are suitable for continuous running in ambient temperatures up to 50°C. (service conditions S1 – VDE 0530)
Switching Frequency:
Suitable for up to 2000 switch operations per hour.
Ambient Temperature:
From –25°C to +50°C
Additional Equipment:
Limit Switch (mechanical or inductive)
Throttle Valve – for stepless reduction of the thruster recoil speed
Fast Switching – when normal piston lowering time is too long
Brake Spring (c-spring) – for brake aplictaion and control of the brake force
Re-setting spring, same mode of operation like c-spring with smaller resetting forces
Damping Spring (d-spring) – to damp random oscillations of the brake (only effective in conjunction with a c-spring)
Heating for applications where the ambient temperature is less than -25°C
Download (PDF files)

To view the PDF files you need Adobe Reader, which can be downloaded from the Adobe website.
If you need further information or have questions, we are happy to assist you. > Contact

go to top