Couplings
Torsionally Flexible Couplings from 40 to 20,000 Nm
High Elastic Couplings from 10 to 15,000 Nm
Barrel Couplings from 4.5 to 770 kNm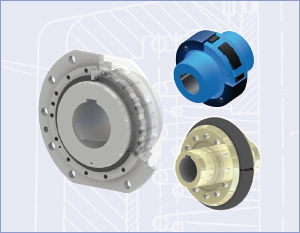 KoRo IBS High Elastic Coupling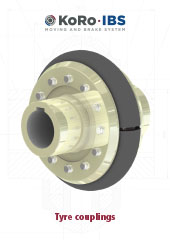 High Elastic Coupling
(PDF, 1.12 MB)
General Information:
The high elastic coupling is a highly flexible rubber fabric coupling, in particular suitable to link two shafts in diesel engine and electric drives.
The torque range of this series is 10 Nm to 15,000 Nm.
Due to the special form of the shaft tyre, the high elastic coupling is able to compensate extremely large offsets in every direction without generating wear. In the works the tyre is provided with a parting line as a standard thus allowing the radial mounting and dismantling.
The torque transmission of the high elastic coupling is absolutely free from backlash. It is suitable to absorb torque peaks and damps occurring vibrations.
Technical Information:
Material of the couplings, hubs and flanges: steel
Shaft tyre: natural rubber containing fabric inserts
When aligned radially or transversally a different spring stiffness can be realized.
Shaft tyres in non-flammable, electrically and oil-resistant execution are available on request.
High elastic couplings are suitable for temperatures from –20°C to +80°C.
When casing the coupling by a protective or covering cap, bear this fact in mind or assure sufficient aeration and heat dissipation.
Normally the flexible couplings present the predetermined breaking point of a propulsion line. Therefore overloads of the propulsion line result in a failure of the flexible coupling elements. This behaviour is intentional and protects the system against unexpected damage. Subsequent failures resulting from the safety function of the coupling have to be taken into consideration by the system designer and have to be monitored or prevented resp. by taking suitable measures.
Applications:
building machines
mill works
cranes
cement mills
pump industy
shipbuilding
steel industy
paper making machines
Emergency operation device:
The high elastic coupling can be supplied with an emergency operation device (i.e. safety device against spinning). With rupture of the flexible elements, a torsionally stiff connection with free play between the input and output sides is achieved by meshing claws. A time-limited emergency operation with limited torque is possible.
Storing of rubber flexible elements:
When suitably stored, rubber flexible elements maintain their characteristics for several years without change.
It is of great importance to protect the stored parts against oxygen, ozone, light, heat, moisture and solvents.
The temperature in the store should be between 10°C and 25°C.
All light sources emitting ultra violet rays are dangerous and should be avoided. The relative air humidity should not exceed 65%.
Solvents, fuels, lubricants, chemicals, acids, disinfectants. etc. must not be stored in the same room with the elements.
Further details are given on sheet DIN 7716.
Download (PDF files)

To view the PDF files you need Adobe Reader, which can be downloaded from the Adobe website.
If you need further information or have questions, we are happy to assist you. > Contact

go to top