Overview Rail Clamp Systems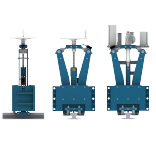 Rail Clamp System ZWVM/ZWVE
Obstacles on rails can be navigated without problems because the rail clamp system ZWVM / ZWVE feature a vertical lifting of clamp tongs during opening to move the clamp-shoe above top of rail. Barriers like overtravel attachment can be passed with this system without problems.
The clamp system ZWVM/ZWVE mounted with a floating housing (SG) is able to compensate with use of guide idlers rail misalignment to +/- 25 mm horizontally.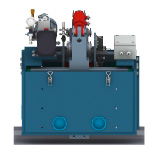 Rail Clamp System ZWA
Two massive, inflexible clamp levers are closed with a compression spring system by means of knee levers (Fail-Safe Principle). No losses of clamp force resulting from jaw wear because the reduced spring force is compensated by the increasing knee lever transmission. A near by constant contact force is so assured.
The described clamp system is situated within a support frame that runs on crane rails guided by idlers. Compared to the surrounding housing which is mounted to the rail bound vehicle, the clamp system moves freely in a horizontal and vertical direction following the contour of rails.
A misalignment of rails in relation to the vehicles undercarriage can be compensated within the limits of +/- 20 mm ertically and +/- 25 mm horizontally.
A new developed vertical and horizontal guidance system (VHS) assures a vertical position and prevents tilting of the clamp system independent from the shape of rail top.
The rail clamp ZWA is released by hydraulic cylinder which pulls the clamp levers against the constant spring force to open the rail clamp.
By using an adjustable throttle-check-valve closing time of the rail clamp is adjustable from 15 to 20 sec to ensure a stand still of the rail bound vehicle before closing of clamp.
The rail clamp is for holding and securing purposes only. The rail clamp should not be closed if the rail bound vehicle moves.
Each ZWA will be completely delivered with hydraulic unit, hand pump, function and monitoring switches and terminal box.
A guard hood with inspection flaps is part of the standard equipment.
Download (PDF files)

To view the PDF files you need Adobe Reader, which can be downloaded from the Adobe website.
If you need further information or have questions, we are happy to assist you. > Contact

go to top