Rail Clamp Systems
High durability
Position of clamp remains unchanged in case of power failure (fail-safe)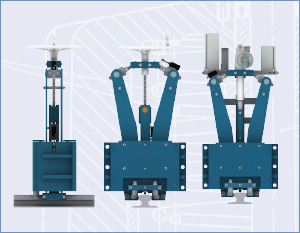 KoRo IBS Rail Clamp electro-hydraulical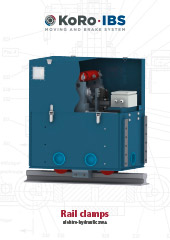 Rail Clamp electro-hydraulical
(PDF, 2.32 MB)
Operation:
Closing through spring force
Adjustable throttle (time delay 3 - 120 sec.)
Opening through hydro-cylinder und hydro-aggregate incl. emergency hand-pump in case of power loss
With power loss the rail clamp closes automatically (fail save)
Holding force per rail clamp with μ = 0.25 or μ = 0.4ZWA
Special Features:
Automatic rail clamp; horizontal movement ± 25 mm and vertical movement ± 20 mm. Two idlers inside the clamp housing guide the rail clamp on the rail
No loss of clamping force resulting from jaw wear because reduced spring force is compensated by increasing the toggle lever transmission
Limit switch controls the position of rail clamps "clamp open", "clamp closed", "jaw wear"
Pressure switch in hydro aggregate redundant to mechanical limit switch at the clamp car
Holding force per rail clamp with μ = 0.25 or μ = 0.4 according to DIN 15019 Part 1
Exchangeable clamping jaws
Emergency hand-pump in case of power loss
Electro-installation complete to terminal box on the clamp housing
Hydraulic system, hydro-aggregate and hydro-cylinder are ready for operation, hydraulic oil is included
Clamp housing idlers hardened
ZWA car support rail VHS for maintenance free operation of the rail clamp is included
Aluminium cover is protected from environmental influence when it is completely closed. On demand the sides of the cover can be turned around, so that 2 big vertical openings develop
160 μm paint with four layers standard
Rapid interchangeability of the units , like hydro-cylinder and hydro-aggregate
Download (PDF files)

To view the PDF files you need Adobe Reader, which can be downloaded from the Adobe website.
If you need further information or have questions, we are happy to assist you. > Contact

go to top