Repairs Rail Clamp Systems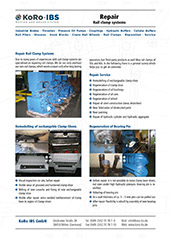 Repair Rail Clamp Systems
(PDF, 1.05 MB)
Repairs Rail Clamp Systems
Due to many years of experiences with rail clamp systems we specialized on repairing rail clamps. We do not only overhaul our own rail clamps, which needs a repair only after long lasting operation, but Third-party products as well like rail clamps of 50s and 60s. In the following there is a general survey which helps you to get an overview:
Remodelling of exchangeable clamp-shoe
Remodelling of clamp-shoe
Regeneration of all bushings
Regeneration of all axis
Regeneration of wheel
Repair of steel construction (wear, distortion)
New fabrication of destructed parts
New painting
Repair of hydraulic cylinder and hydraulic aggregate
You'll find more information in our PDF file.
Download (PDF files)

To view the PDF files you need Adobe Reader, which can be downloaded from the Adobe website.
If you need further information or have questions, we are happy to assist you. > Contact

go to top