Hydraulic, Rubber- and Cellular Buffers
very wide buffer range
various special equipment procurable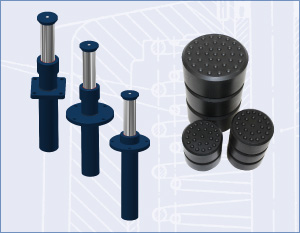 KoRo IBS Hydraulic Buffer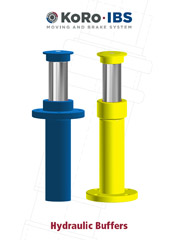 Hydraulic Buffers
(PDF, 1.02 MB)
The hydraulic buffers of the KHP series have been designed to be used for many different technical applications.
The buffer can be used for any kind of technical application due to its self-contained system. Since there is no need for this damping device to be supplied with external energy or other external means, it is outstandingly suited to decelerate moving masses along the shortest possible path considering the company requirements.
Facts of the KHP-series:
Diameter range of 75mm up to 175mm
Buffer stroke of 50mm up to 1600mm
max. buffer power of up to 1000kN
Operating temperature of -30 up to 100°C
Wear-resistant piston rod by means of hard-chrome plating
optional mounted piston rod protection
Advantages of the KHP-series:
In the development of the KHP hydraulic buffer the individuality was emphasized!
For instance, we do supply our buffers as a pre-finished version (front flange) for buffers of the product OLEO and RIW regarding the installation dimensions and the buffer characteristics.
Optimal throttle features due to the application dependent, customer specific throttle design considering possible desired special characteristics!
Paints according to customer requirement are also possible.
We readily work out with you the optimal hydraulic buffer design for your application – also for different cases as comprised in our standard programme!
Download (PDF files)

To view the PDF files you need Adobe Reader, which can be downloaded from the Adobe website.
If you need further information or have questions, we are happy to assist you. > Contact

go to top