Hydraulic, Rubber- and Cellular Buffers
very wide buffer range
various special equipment procurable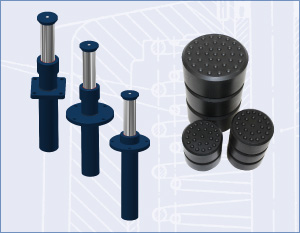 KoRo IBS Rubber- and Cellular Buffers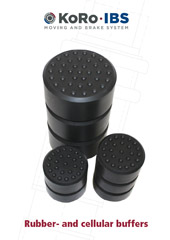 Rubber- and Cellular Buffers
(PDF, 2.58 MB)
Buffers with high energy absorption capacity are required on cranes to avoid deformation of structural components when the crane strikes against the runway limit stop. For this purpose, a special cellular buffer has been developed which is also useful in any other application where impact energy with a limit maximum load is to be converted.
Polyurethane®, a cellular material with excellent physical properties, is used for the buffer body whose elasticity and energy absorption capacity are materially improved by the cellular structure. Due to the specific properties of the plastic material employed and to the action of the gas occluded in the cells, the energy absorption increases with impact velocity.
There is no limit stop that would restrict the compression of the buffer body, so that even in the case of a violent collision the cushioning effect is maintained till the end of impact.
The entire buffer volume is utilized to absorb energy, since the impact load will be distributed throughout the buffer's cross-sectional area. The buffer undergoes very little radial expansion even under the largest possible compression.
A favourable diameter-to-length ratio in conjunction with non-slip face make the cellular buffer virtually insensitive to axial misalignment due to the crane's normal wheel/rail clearance.
The buffer material provides chemical resistance to ozone, oxygen, water, gasoline and most oils and industrial lubricants. The buffer works silently. Its shock-absorbing capacity is fully retained over a temperature range from –40°C to + 80°C.
Download (PDF files)

To view the PDF files you need Adobe Reader, which can be downloaded from the Adobe website.
If you need further information or have questions, we are happy to assist you. > Contact

go to top