Couplings
Torsionally Flexible Couplings from 40 to 20,000 Nm
High Elastic Couplings from 10 to 15,000 Nm
Barrel Couplings from 4.5 to 770 kNm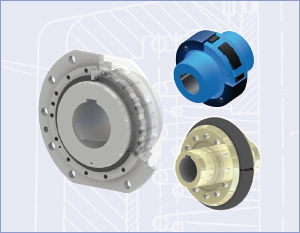 KoRo IBS Torsionally flexible coupling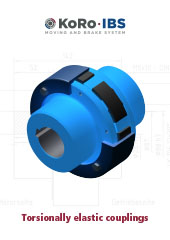 Torsionally flexible coupling
(PDF, 2.54 MB)
Torque from 40 Nm to 20,000 Nm
Special features:
Compensate for axial, radial and angular misalignment
Absorb shock loads
High overload
Damping of shocks and vibrations
Possible removal of the elastic elements without axial displacement of the coupling hub
Easy to assemble and align
Maintance free
Adaptation in almost every possible installation situation
Available with flanged brake drum
Available with flanged brake disk

The couplings (type MMS) compensate for axial, radial, and angular misalignment. Thus they can compensate shaft misalignment as a result of inaccurate mounting, setting of foundation, or changes in height or length due to thermal influence.
The couplings operate with transmission elements form-fit and absorb shock-loads. The flexible transmission elements are made of a rubber material (NR-SBR 75-80° Shore A – element design SN) suitable for temp. from -40°C to +80°C. Different rubber material with different hardness can be delivered on request.
In case of smaller sizes up to size 63 the elastic elements are designed as anular gear. Bigger couplings use six rubber elements. Two rubber blocks are linked to the outer belt.
The separately fixed retaining cap, a special feature of all couplings type MMS which allows a radial change of the flexible elements without axial movement of the coupling hubs.
The couplings are provided with progressive torsional properties with good damping characteristics with regard to torsional vibration and load shock.
Standard version:
MMS – Design made of ductile iron GGG40
MMSI – Design made of steel C45
Download (PDF files)

To view the PDF files you need Adobe Reader, which can be downloaded from the Adobe website.
If you need further information or have questions, we are happy to assist you. > Contact

go to top