Couplings
Torsionally Flexible Couplings from 40 to 20,000 Nm
High Elastic Couplings from 10 to 15,000 Nm
Barrel Couplings from 4.5 to 770 kNm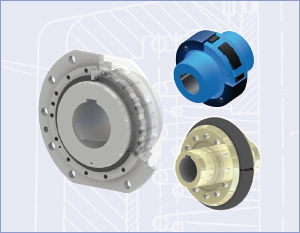 KoRo IBS Barrel Couplings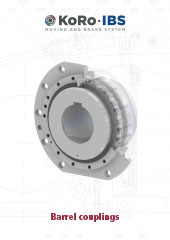 Barrel Couplings
(PDF, 3.95 MB)
Special Characteristics:
Absorption of high radial load
High resistance to wear
Construction is very robust
Indicator for degree of wear
Indicator to control axial position of housing to hub

The barrel couplings consists of a flange enclosures with semicircular internal gear and a clutch hub with external teeth of same form, as well as a series of hardened steel roller, the barrels which are between the two parts.
Two caps are fixed at the sides with adequate gaskets and care for sealing the interior. Axial play of barrel roller in the housing is defined through two clamp rings on the hubs which are fixed on both sides of gear teeth.
Due to vaulted form of barrel rollers and the play of teeths, it is possible to adjust an angular displacement of ± 1°30' and an axial displacement from min ± 3 mm to max. ± 8 mm.
Generally the torque is carried through the housing of flangedrum with two driving surfaces which are diagonal flat and positioned opposite. This is enhanced by friction of connecting screw of both flanges.
Standardausführungen:
ITK – standard material
ITK42 – made of 42CrMo4
Download (PDF files)

To view the PDF files you need Adobe Reader, which can be downloaded from the Adobe website.
If you need further information or have questions, we are happy to assist you. > Contact

go to top