Industrial Brakes
Drum brakes according to DIN 15435
Brakes for steel works and heavy duty operation according to HWN 1964 and DIN 15435
Disk brakes for electro-hydraulic thrusters
Safety disk brakes
Special constructions for electro-hydraulic, hydraulic, pneumatic, mechanical or magnetic thrusters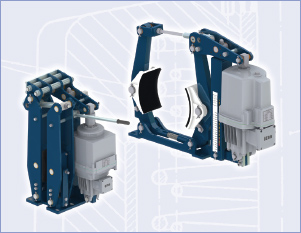 KoRo IBS Disk Brakes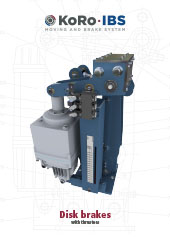 Disk brakes
(PDF, 1.29 MB)
Special Features:
the fitting dimensions correspond to the industrial standard, thus interchangebility is guaranteed
the brake can be delivered in following designs:
right hand design R (as pictured)
left hand design L (reversed image)
the tangential arrangement of the brake shoe levers and a strong construction form make it possible that high brake torques can be achieved without squealing
a big lifting gap at the brake lining as well as adjustable stops at brakes shoe and brake shoe lever guarantee a sufficient removal of the brake shoes from the brake disks even under unfavourable operating conditions
a closed spring tube will protect the spring from damage and contamination
brake torque adjustable, brake torque moment scale with Nm-graduation
Functioning principle:
braking by spring power
lifting by thruster
brake torque adjustable
brake closes in case of power failure (fail-safe principle)
Construction form:
brake shoe levers arranged tangentially to the disk
brake spring and electro hydraulic thruster arranged laterally
brake shoe lever in double-webbed steel design
adjustable positive stops for brake shoes and brake shoe lever

Option and Accessories:
automatic wear adjustment AVN
different lining qualities and coefficient of friction
greaseable bearings (bushings)
stainless steel pull rods
hand lifting device
special painting
limit switches and monitoring devices for brake indication, brake lining wear, a.s.o.

Lining Carrier, Linings, Disk Brakes and Hubs acc. to DIN 15432 and DIN 15436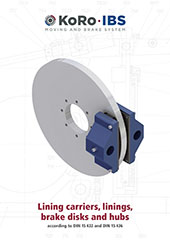 Lining Carrier, Linings, Disk Brakes and Hubs
(PDF, 1.8 MB)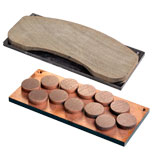 Linings
Design:
SBB-51. Brake side and contact surface round, highcompressed, high density, tough preformed, grey black, asbestos free.
SBB-SM. Compression moulding sintered metal-friction material based on non-ferrous metals and special metal-free anorganic components to control the friction. Physical properties, extremely low wear, no stick-slip effect, goes easy on contact material.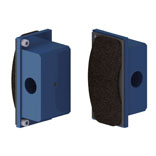 Lining Carrier
With bounded linings acc. to DIN 15 436
Design: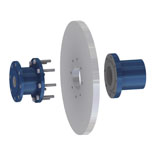 Brake Disks
Brake disks according to DIN 15 432 for SBB Disk brakes. Design with and without hub.
Design:
made of steel St52-3 manufactured from solid
special brake disks
Download (PDF files)

To view the PDF files you need Adobe Reader, which can be downloaded from the Adobe website.
If you need further information or have questions, we are happy to assist you. > Contact

go to top