Industrial Brakes
Drum brakes according to DIN 15435
Brakes for steel works and heavy duty operation according to HWN 1964 and DIN 15435
Disk brakes for electro-hydraulic thrusters
Safety disk brakes
Special constructions for electro-hydraulic, hydraulic, pneumatic, mechanical or magnetic thrusters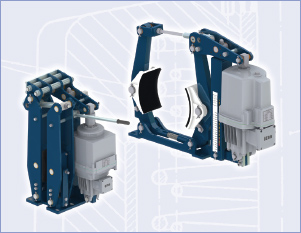 IBS Heavy Duty Brakes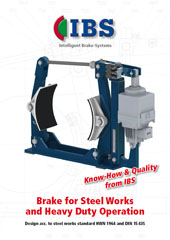 Heavy Duty Brake
(PDF, 1.89 MB)
IBS drum brakes conforming to steel works standard HWN 1964 are of a very robust and reliable construction
Welded baseplate and brake lever
Brake torque adjustable by means of an enclosed, lightly loaded spring
Easy to read brake torque scale in millimetres with a plexiglass cover
All bolts in rust and acid resistant steel
All bearings maintenance free
Screws nuts and split pins zinc galvanized
Brake shoes according to DIN 15 435

The brake is equipped with a very reliable, enclosed, automatic wear adjustment which guarantees that the brake force remains constant when the linings wear. The tension rod is made from non corroding material. The nut is made from brass. The trunion block is made from V2A (stainless steel) thus permanent, perfect operation of the automatic wear adjustment is guaranteed. For the extra aggressive environment of a steel works the ratchet and ratchet wheel are hardened.
Supplementary Components:
Limit switch to indicate brake opened/closed
Automatic wear adjustment (AVN)
Hand lifting device
Brake drum with hub and coupling

Thrusters:
Electrohydraulic thruster acc. to DIN 15 430
Hydraulic cylinders
Pneumatic cylinders
Magnets

Linings, Brake Shoes and Brake Drums acc. to DIN 15431 and DIN 15435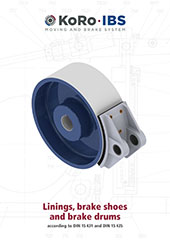 Equipment
Drum brakes
(PDF, 1.74 MB)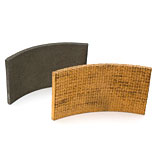 Linings
Drum brake linings according to DIN 15 435 part 3 for agriculture and industrial applications. The friction material is asbestos free, flexible with caoutchouc/ synthetic resin and metal fibre coating or as woven brake lining, impregnated, flexible, light brown, asbestos free. To bond or to rive. Design in form E, compression-molded or as flexible bulk stock.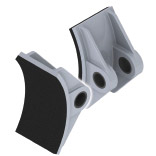 Brake Shoes
Brake shoes according to DIN 15 435 part 2 for drum brake according to DIN 15 435 part 1.
Design:
Of aluminum with steel bushings without holes
Of aluminum with steel bushings with holes
Of steel without holes
Of steel with holes
Special brakes shoes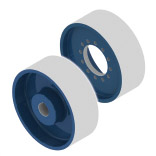 Brake drum
Brake drums according to DIN 15 431 for drum brakes according to DIN 15 435 part 1. Design with and without hub. For elastic couplings and for pin type couplings.
Design:
Of GGG40 manufactured from solid
Of C45 manufactured from solid
Special brake drums
Repair
New line of brake shoes according to DIN 15 435 part 2 and of special brake shoes. New bonding and riveting with linings according to DIN 15 435 part 3 or with special linings for brake shoes with special measures
If you have brake shoes where the lining must be exchanged, send us your brake shoes and we will take care about it.
Download (PDF files)

To view the PDF files you need Adobe Reader, which can be downloaded from the Adobe website.
If you need further information or have questions, we are happy to assist you. > Contact

go to top